The "AK Difference"
People Helping
People
Personal, intelligent, collaborative HR, payroll, benefits and recruiting services  – all backed by the latest technology.
Choosing Adams Keegan means entering a partnership that helps your organization adapt, grow, and meet the challenges of the day. We partner with each client to understand their business with a mission to remove administrative burdens and reduce overall operations costs.
Learn more about our services below, including our self-service Efficenter® platform and dedicated assigned client service teams.
Employee self-service
Efficenter®: Customized for You
Support Your HR Needs with Fewer Burdens, More Bandwidth
Efficenter® offers a single, customizable system of record for all HR/payroll and administrative needs. It's designed for you to simply manage onboarding, payroll, benefits and more while connecting you to your Adams Keegan Team.  Efficenter® seamlessly integrates with applicant tracking systems, labor management systems, and numerous other third-party systems that may be critical to your business model and employee life cycle.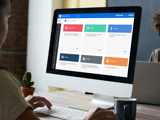 Seamless Integrations
We build it. We own it. We manage it. This makes it possible for Adams Keegan to integrate Efficenter® with stand-alone and legacy systems that may be critical to your business.
An All-In-One Tool
In many cases, Efficenter® combines general ledger, point-of-sale, and other internal or third-party systems. Data only needs to be entered once, and thus populates the entire system. The result is one system of record, producing a single set of numbers that tell a consistent and accurate story.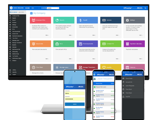 Proven Reliability
Adams Keegan runs a disciplined "always-up" operation with the Efficenter® servers at our primary data center. Plus, we maintain a fully redundant secondary data center out of state for immediate disaster recovery.  As upgrades and new capabilities are built they are merged into Efficenter® without down time or a version upgrade on your side.
Unparalleled Security
Efficenter® offers greater security and accuracy than paper-based employee administration. It protects your data with 256-bit secure socket layer (SSL) encryption, multiple firewalls, intrusion detection, and off-site data backup. 
With Efficenter®, tasks are automated, paper files are eliminated, and employee data is easily accessible. Plus onboarding new employees is a breeze and your employees have numerous self-help capabilities.